---
In recognition of our Nordic Walk it member achievements.......
Raising Money in support of Air Ambulance
"As a group who loves exploring our surrounding countryside to keep fit, we wanted to support a charity that operated in the heart of our community and was linked to supporting people with their health.

Air Ambulance is such a valuable and vital service that is run entirely on monies raised. I'm so proud of everyone in the club who willingly devotes their time and effort to supporting Air Ambulance. It's been a great way to keep fit, explore the surrounding area and have fun together." Jo Douglas
---
Autumn 2019 - Twenty-seven walk 27 miles over tricky terrain in the unpredictable weather, across two weekends raising over £454.30
Autumn 2018 - we chose to treat ourselves and raise money through cake sales, raising £365
March to June 2017 - we set ourself a mega-challenge to complete a sponsored walk covering the 65-miles of the Rutland Round over 3 days. Thirty-one people participated, some completing the whole walk, others one day. Other fund raising activities included making and selling produce, weekly club raffles and a community raffle that was supported by local pubs situated not the Rutland Round
---
Diamond

400 Nordic miles walked
WELL DONE
Louise L, Diane E, Robert E, Philip M, June M, George S, Diane S, Caroline L, Helen R, Jo S, Pippa H, Claudia R, Moira B, Dave C,
---
---
Silver

160-Nordic miles Walkred
Awarded to:
Sue, Trish, Marion, Nicki, Pippa, Ho, Claudia, Diane, Robert, June, Phil, Louise
---
Bronze

80-Nordic miles walked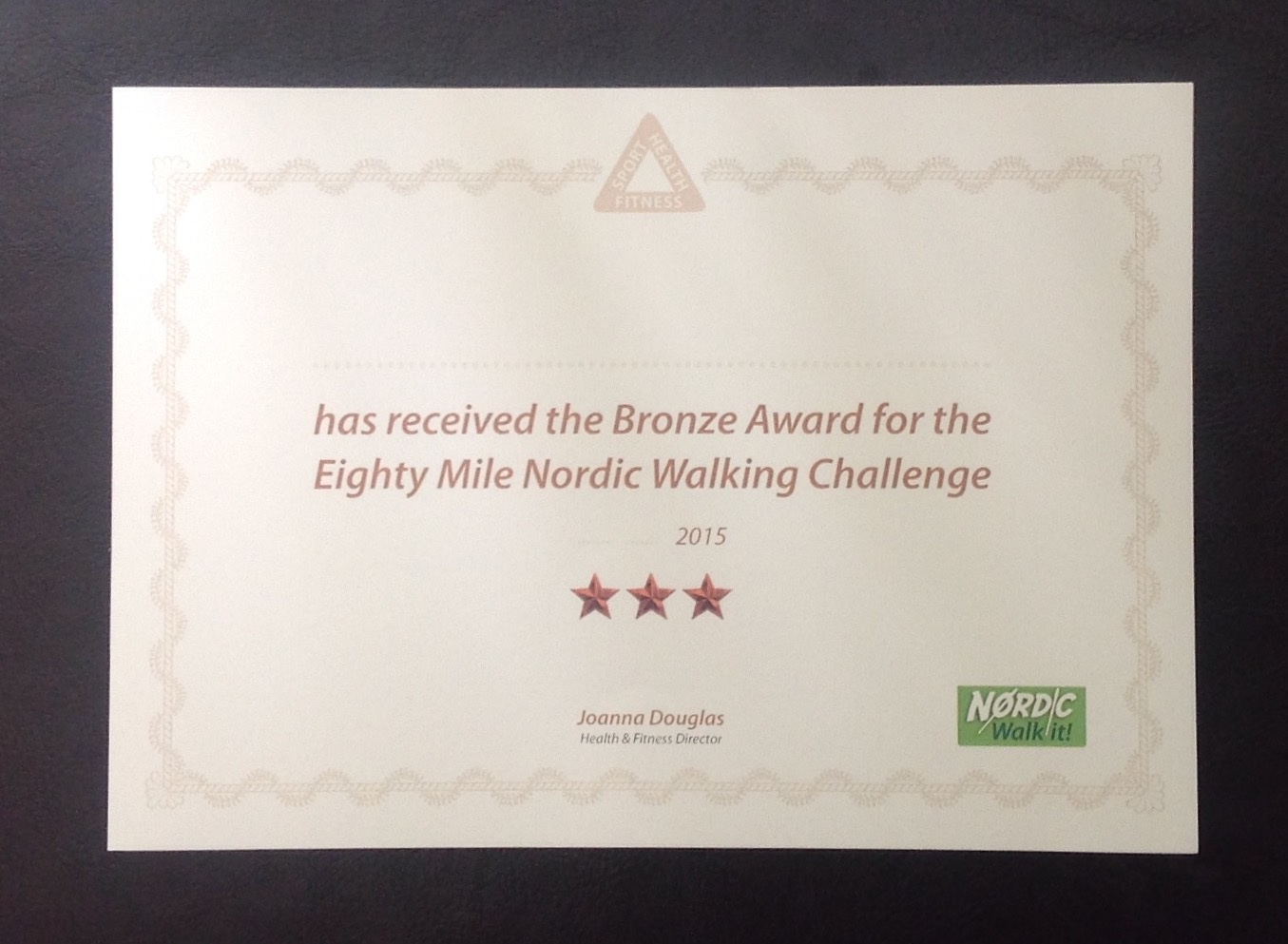 Awarded to:
Sara, Janet, Sue, Mo, Audrey, Lesley, Yolanda, Molly, Sue, Trish, Colleen, Linda, John, Anne, Sarah, Georgia, George, Brian, Marion, Nicki, Linda, Claudette, Richard, John, Louise, Iris, Robert, Diane, Jo, Claudia, June, Philip
---
Celebrating our successes in 2015
What a fantastic night, 66 of us met up as a club to celebrate Christmas together. We had great fun, ate well, danced well (in fact I think we took over the dance floor!) and cheered each other on..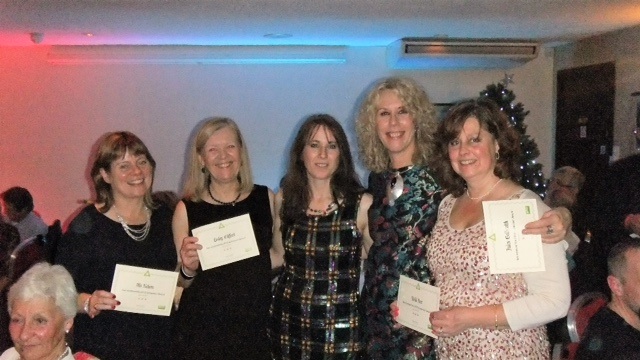 Well done Mo Nelson, Lesley Clifford, Jules Galbraith and Nicki Parr who were awarded the 'Nordic Walk it 2015 Achievers Award' for pushing themselves outside of their comfort zones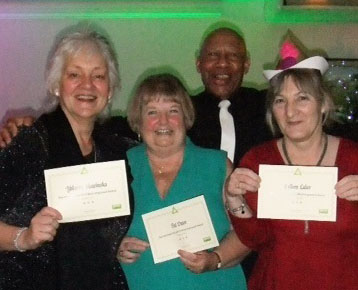 Our '2015 Improvers Award' goes to Yolanda Slowinska, Pat Dawe and Colleen Laker. All three worked hard to improve their Nordic Walking technique and levels of fitness to a new height.
---
2015 ACTIVE RUTLAND CLUB OF THE YEAR
I am proud to announce that NORDIC WALK IT! has been received 2 runner up awards at the Active Rutland Awards:
- CLUB of the Year
- and to our very own Dave Crooks: Sportsman of the Year
---
And the winners of the 2015 British Nordic Walking Challenge Series......
10K distance:
Fastest Man | David Crooks of Nordic Walk It!
Fastest Team | Nordic Walk It!
---
Soporting success; fastest 5K and 10K teams.....
British Nordic Walking event, 15th November 2015 at the British Nordic Walking race, Black Park, Slough

Wow, wow, wow, didn't we all do well! For some of us, this was our first race, for others our 2nd or 3rd. We all finished with excellent timings and some new personal bests, but most importantly - we all had fun. Over the next week I will be updating the website, so do check out the sports page for times and pictures.
We entered 3 teams - all were brilliant, with our club winning fastest 5 and 10K. That's 2 in a row for the 5K races and 3 for the 10k - which makes NORDIC WALK IT! the 10K BRITISH NORDIC WALKING SERIES CHAMPIONS FOR 2015. series champions. Plus our new 5K team were hot on the heals of the other team - so watch out.
---
Welcome back to Sian who has been volunteering in SW Uganda - here is her story....
"I have just returned from a 16 day trip to rural SW Uganda with Mission Direct. In just over 2 weeks you cannot achieve a huge amount, but the main team built an additional house for a local primary school, and the medical team worked in the local hospital. I learned lots about malaria, typhoid, HIV/AIDS, made some great friends and started to understand what life (and medicine) is like in a Third World country. I hope some of my teaching and expertise helped a bit too.

High point was seeing a leopard just 50 yards from my chalet. Low point was seeing young people die of things that are so easily treated in the UK.

More details from my blog on rukungiriadventure Or if I walk next to you, I can talk all the way."
---
Nordic Walk it! for Children in Need: £336 raised
Following the suggestion of Country File, we organised a family walk to raise money for Children in Need - and were successful in raising £336. It was a lovely 5.5 mile walk from Pipwell to Cold Overton and back with plenty of sunshine and good cheer. A BIG thank you to everyone who took part and to Ned who did an excellent video clip (posted on FB)
---
---